Results and Scorers:
RESULTS: 2019 Hastings Deering Colts Finals Week 1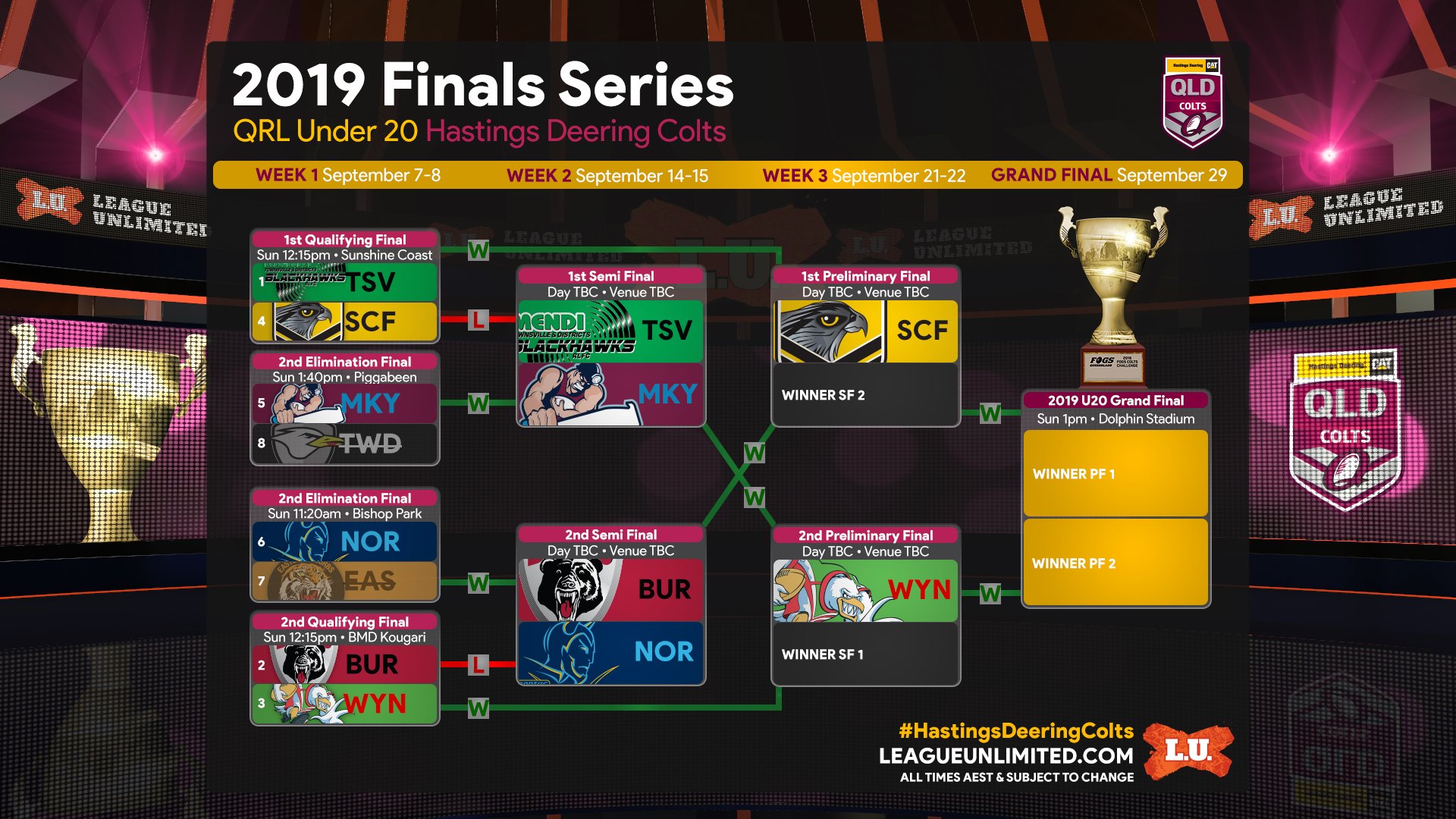 All the results and scorers from the first weekend of the QRL U20 Hastings Deering Colts Finals Series.
Easts Tigers and Tweed Seagulls have been eliminated, while Sunshine Coast and Wynnum Manly proceed straight to the Preliminary Finals.
All listed times are AEST (NSW/QLD/VIC/ACT).
---
RELATED: See the full list of 2019 Hastings Deering Colts Draw and Results.
---
Norths Devils 40 Easts Tigers 20
Venue: Bishop Park
Date: Sunday 8 September 2019 at 11:20am
Norths Devils (40)
Tries: Fruean Easthope 2, Michael McGrath 2, Dylan Quinn, Josh James, Daniel Atkinson, Jared Chambers
Goals: Josh James 4
Easts Tigers (20)
Tries: Solomona Faataape 2, Dario Takitaki, Zac Teevan
Goals: Dray Ngatuere-Wroe 2
---
Townsville Blackhawks 4 Sunshine Coast Falcons 24
Venue: Sunshine Coast Stadium
Date: Sunday 8 September 2019 at 12:15pm
Townsville Blackhawks (4)
Tries: Keanu Wainohu-Kemp
Sunshine Coast Falcons (24)
Tries: Gian Largiader, Wyatt Reynolds, Kane Jackson, Hunter Brough
Goals: Tyson Smoothy 4
---
Burleigh Bears 19 Wynnum Manly Seagulls 24
Venue: BMD Kougari Oval
Date: Sunday 8 September 2019 at 12:15pm
Burleigh Bears (19)
Tries: Lochlan Turnbull, Lochlyn Sheldon, Jayden Campbell
Goals: Jayden Campbell 3
Field Goals: Jayden Campbell 1
Wynnum Manly Seagulls (24)
Tries: Shannon Gardiner 2, Dredin Sorensen-McGee, Jake Simpkin
Goals: Reece Hoffman 4
---
Mackay Cutters 23 Tweed Seagulls 10
Venue: Piggabeen Sports
Date: Sunday 8 September 2019 at 1:40pm
Mackay Cutters (23)
Tries: Tom Irelandes 2, Josh Smith, Garrett Smith
Goals: Brendan White 3
Field Goals: Tom Irelandes 1
Tweed Seagulls (10)
Tries: Jaylan To'o, Toby Sexton
Goals: Jaman Rio 1