Results and Scorers:
RESULTS: 2020 Betfred Championship Round 3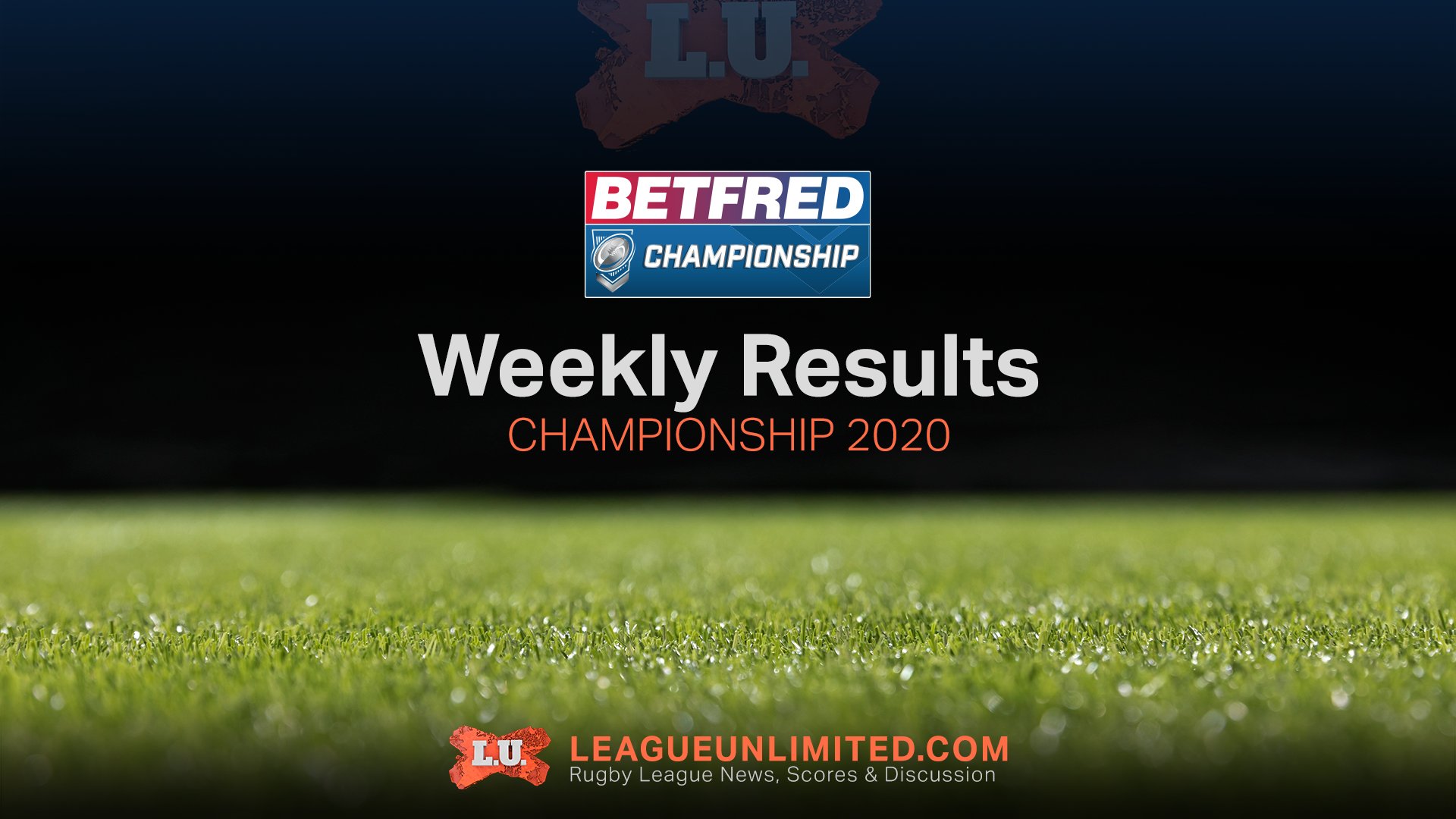 All the results and scorers from the third round of the UK's Betfred Championship, thanks to the RFL.
All listed times are AEDT (NSW/VIC/ACT). Subtract 11 hours for UK local times.
---
RELATED: See the full list of 2020 Betfred Championship Draw and Results.
---
Leigh Centurions 34 York City Knights 0
Venue: Leigh Sports Village
Crowd: 2942
Date: Monday 17 February 2020 at 2:00am
Leigh Centurions (34)
Tries: Liam Forsyth 2, Iain Thornley, Liam Hood, Ben Hellewell, Matty Wildie
Goals: Ben Reynolds 5
York City Knights (0)
---
Sheffield Eagles 14 Toulouse Olympique XIII 26
Venue: Castle Park
Crowd: 618
Date: Monday 17 February 2020 at 2:00am
Sheffield Eagles (14)
Tries: Zach McComb, Joel Farrell, Rob Worrincy
Goals: Josh Guzdek 1
Toulouse Olympique XIII (26)
Tries: Stanislas Robin 2, James Bell, Paul Marcon
Goals: Mark Kheirallah 4

---
Widnes Vikings 12 London Broncos 38
Venue: DCBL Stadium
Crowd: 3680
Date: Monday 17 February 2020 at 2:00am
Widnes Vikings (12)
Tries: Deon Cross, Jack Owens
Goals: Jack Owens 2

London Broncos (38)
Tries: Josh Walters, Kieran Dixon, Matty Fozard, Eddie Battye, Eloi Pelissier, Tuoyo Egodo, Cory Aston
Goals: Kieran Dixon 4, Matty Fozard 1
---
Batley Bulldogs 20 Swinton Lions 10
Venue: Fox's Biscuits Stadium
Date: Monday 17 February 2020 at 2:00am
Batley Bulldogs (20)
Tries: Johnny Campbell 2, Dane Manning, Michael Ward
Goals: Dale Morton 2
Swinton Lions (10)
Tries: Mitch Cox, Frankie Halton
Goals: Jack Hansen 1
---
Bradford Bulls 22 Featherstone Rovers 30
Venue: Tetley's Stadium
Crowd: 3640
Date: Monday 17 February 2020 at 2:00am
Bradford Bulls (22)
Tries: Thomas Doyle, Jordan Lilley, Brandon Pickersgill, Matty Dawson-Jones
Goals: Rowan Milnes 3

Featherstone Rovers (30)
Tries: Callum McLelland, James Harrison, Jack Bussey, Craig Hall, Ben Blackmore
Goals: Craig Hall 5
---
Whitehaven RLFC 14 Oldham RLFC 16
Venue: Recreation Ground
Crowd: 532
Date: Monday 17 February 2020 at 5:15am
Whitehaven RLFC (14)
Tries: DIon Aiye 2, Jason Mossop
Goals: Jake Moore 1
Oldham RLFC (16)
Tries: Gareth Owen, Penalty Try
Goals: Dan Abram 4
---
Halifax RLFC 16 Dewsbury Rams 18
Venue: The Shay Stadium
Date: Wednesday 19 February 2020 at 6:45am
Halifax RLFC (16)
Tries: Jodie Broughton 2, Scott Murrell
Goals: James Woodburn-Hall 2
Dewsbury Rams (18)
Tries: Matty Gee, Andy Gabriel
Goals: Paul Sykes 3
Note: match was originally scheduled to be played Monday 2am AEDT (Sun 3pm GMT) but was rescheduled due to an unplayable pitch as a result of Storm Dennis.

---
RELATED: Click here to view the current Betfred Championship ladder.