Team Lists:
SQUADS: Betfred Championship - 2019 Playoffs Week 3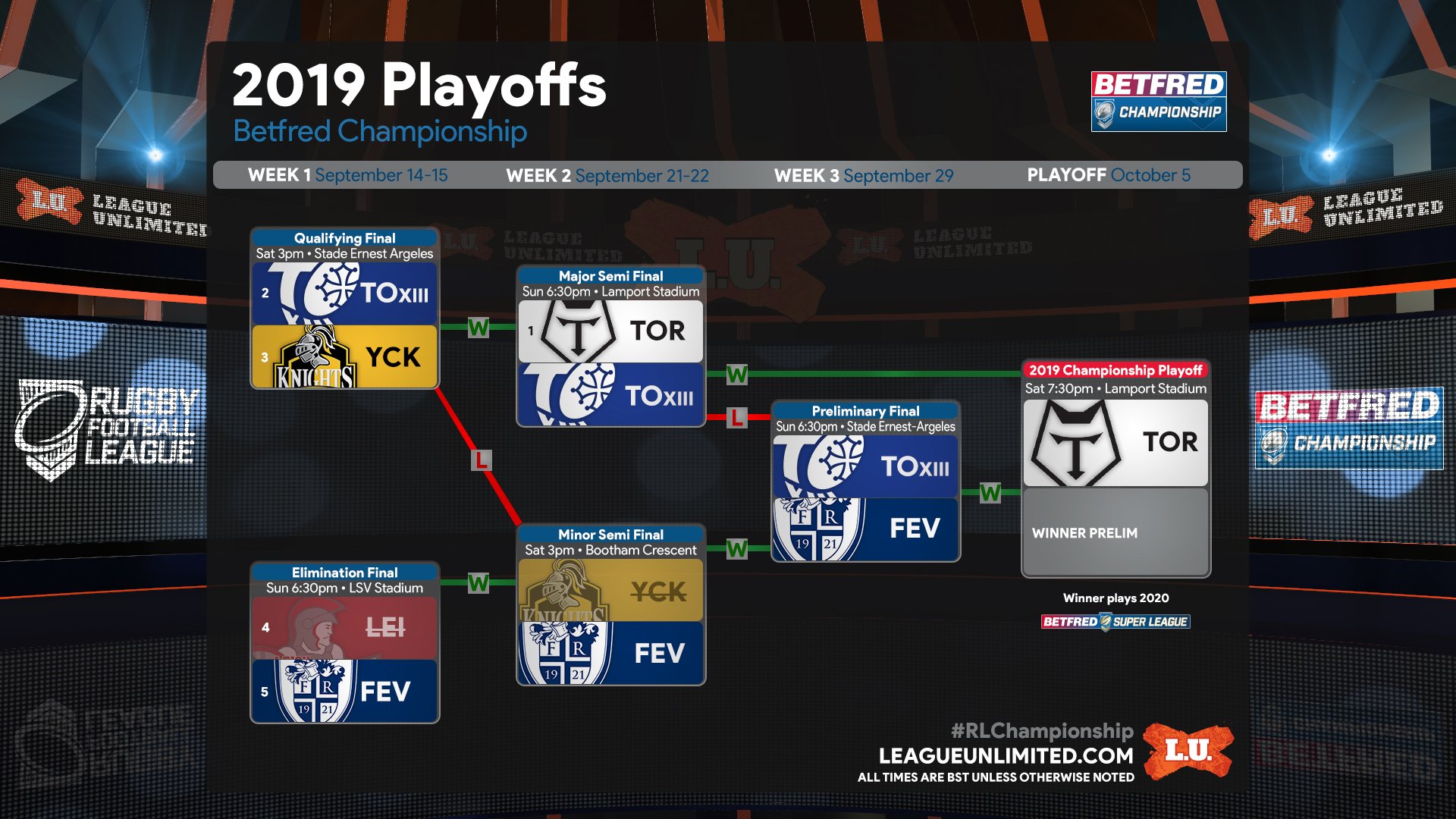 Get the squads for Sunday night's Betfred Championship clash between Toulouse and Featherstone.
The match is broadcast live on Sky Sports Arena in the UK. The winner faces Toronto in the Grand Final on October 5.

All times are listed in AEST (NSW/QLD/VIC/ACT) unless otherwise noted.
Twitter: Follow @LeagueUnlimited
Facebook: Like LeagueUnlimited - NRL & Rugby League News
---

1. Mark Kheirallah 3. Bastien Ader 4. Gavin Marguerite 5. Paul Marcon 6. Jonathon Ford 8. Maxime Puech 9. Anthony Marion 10. Joe Bretherton 11. Constantine Mika 12. Rhys Curran 14. Dean Parata 16. Tyla Hepi 17. Pat Vaivai 19. James Bell 21. Jordan Dezaria 22. Brenden Santi 25. Mathieu Jussaume 26. Junior Vaivai 30. William Barthau

4. Josh Hardcastle 5. Conor Carey 9. Cameron King 10. Jack Bussey 13. James Lockwood 14. John Davies 15. Luke Cooper 17. James Harrison 23. Makahesi Makatoa 25. Jack Render 28. Josh Walters 29. Jack Ormondroyd 32. Alex Sutcliffe 33. Ashton Golding 37. Callum Mclelland 38. Dane Chisholm 42. Wellington Albert 45. Connor Jones 46. Jack Johnson
Match Officials
Referees: Robert Hicks;Sideline Officials: Benjamin Casty, Luodvic Bernard;
---