Team Lists:
TEAMS: NSWRL U20 Jersey Flegg Cup - 2019 Grand Final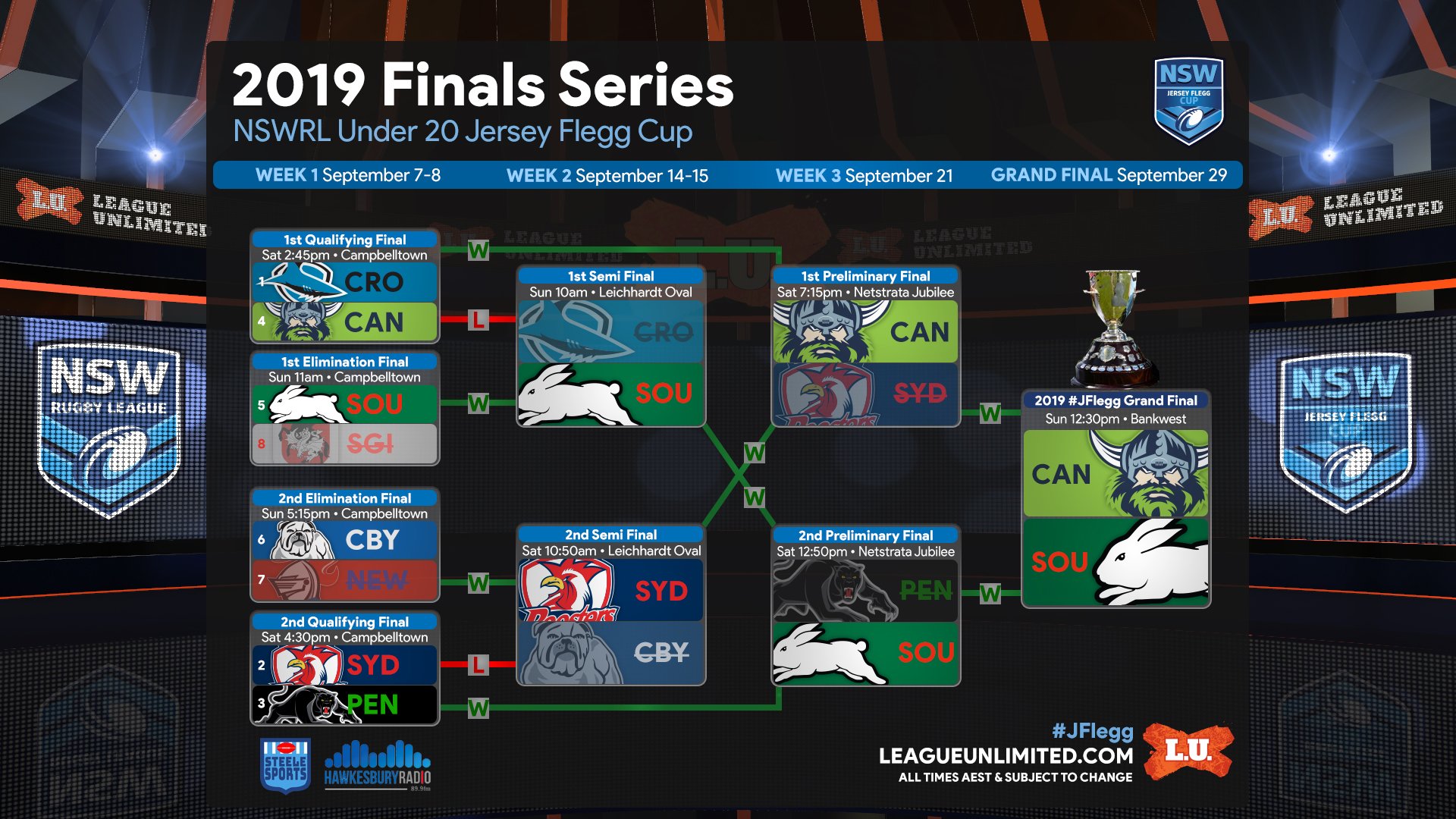 It's Teamlist Tuesday for the 2019 NSWRL U20 Jersey Flegg Cup Grand Final! Get the full teams for Sunday's #JFlegg decider right here.
The match will be broadcast LIVE on Steele Sports and Hawkesbury Radio, with a NSWRL.com.au Live Stream available.

All times are listed in AEST (NSW/QLD/VIC/ACT) unless otherwise noted.
Twitter: Follow @LeagueUnlimited
Facebook: Like LeagueUnlimited - NRL & Rugby League News
---
2019 Grand Final
Canberra Raiders v South Sydney Rabbitohs
Sun September 29 2019, 12:30pm at Bankwest Stadium

1. Harley Smith-Shields 2. Semi Valemi 3. Gideon Afemui 4. Matthew Timoko 5. Manase Kaho 6. Joey Roberts 7. Toby Westcott 8. Tyson Hodge 9. Kyle Paterson 10. Tom Robertson 11. Lachlan Lewis 12. Kai O'Donnell 13. Darby Medlyn 14. Jordan Martin 15. Lazarus Vaalepu 16. Duwayne Mariner 17. Sila Tituiti 18. Jackson Stewart 19. Ata Mariota 20. Jarrett Subloo 21. Matthew Dragisic

1. James Tautaiolefua 2. Kane Allan 3. Marc Zaurrini 4. Jaxson Paulo 5. Nick Mougios 6. Lachlan Ilias 7. Blake Taaffe 8. Luke Bain 9. Josh Cook 10. Aidan Manowski 11. Tallis Angianga 12. Matthew French 13. Joshua Fepuleai 14. Peter Mamouzelos 15. Bradley Zampech 16. Luke Puru 17. Iizaya Ranga Iti 18. Tevita Taumoepenu 19. Jack Frasca 20. Muong Dut 21. Augustine Stowers
Match Officials
Referees: Jake Sutherland;Sideline Officials: Tom Cambourn, Clayton Wills;
---