Team Lists:
TEAMS: NRL Holden Women's Premiership - 2019 Round 3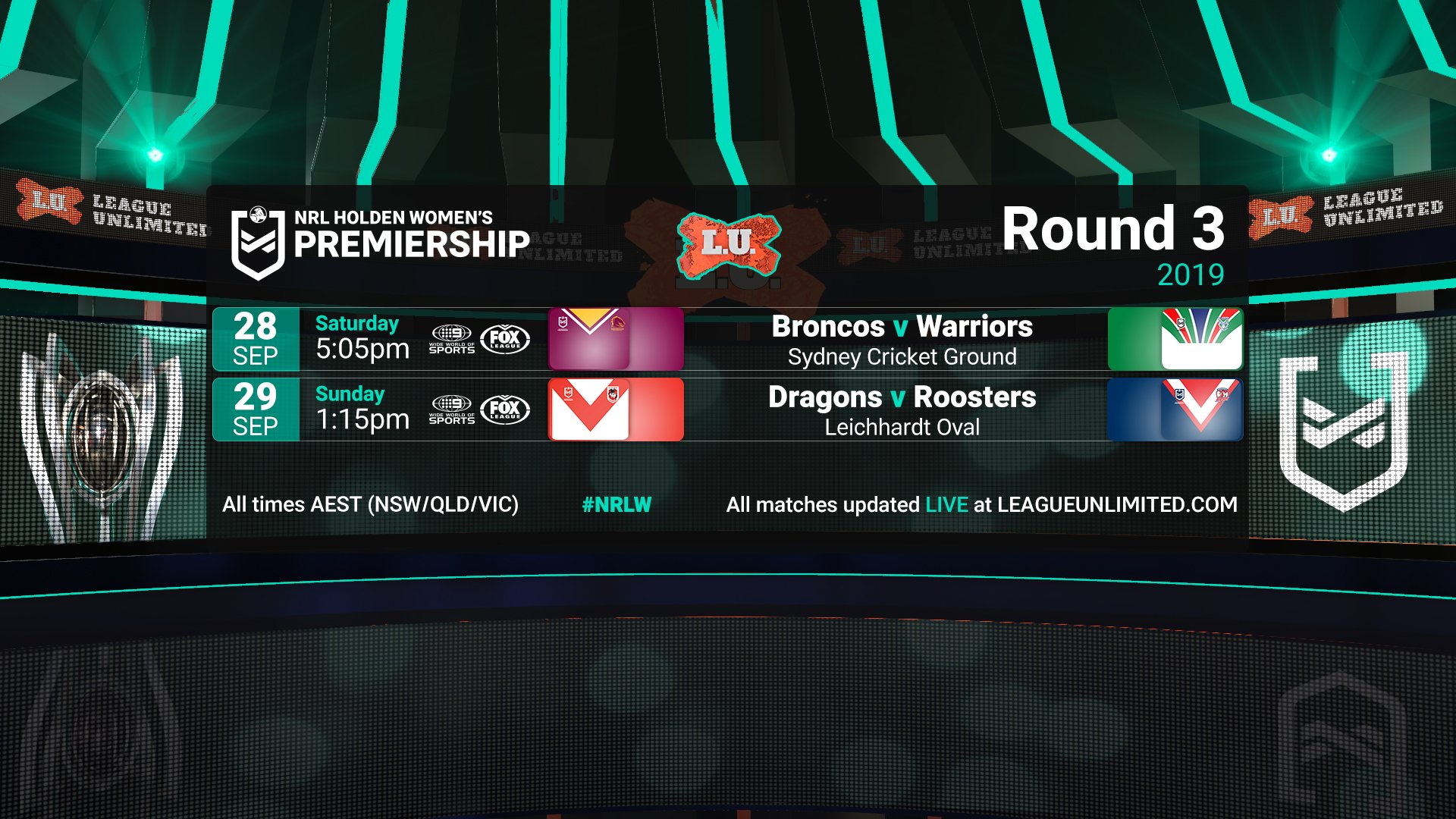 It's Teamlist Tuesday for Round 3 of the 2019 NRL Holden Women's Premiership! Every Tuesday, the full teams for each #NRLW round will be posted right here!
Both matches are broadcast live on Fox League, Nine Network, Sky Sports NZ and Kayo Sports.
All times are listed in AEST (NSW/QLD/VIC/ACT) unless otherwise noted.
Twitter: Follow @LeagueUnlimited
Facebook: Like LeagueUnlimited - NRL & Rugby League News
---

1. Chelsea Baker 2. Julia Robinson 3. Amy Turner 4. Amber Pilley 5. Tamika Upton 6. Raecene McGregor 7. Ali Brigginshaw 8. Millie Boyle 9. Lavinia Gould 10. Amber Hall 11. Annette Brander 12. Tazmin Gray 13. Rona Peters 14. Tarryn Aiken 15. Steph Hancock 16. Mariah Storch 17. Chelsea Lenarduzzi
24H Warning: Heather Ballinger and Rosemary Vaimili Toalepai omitted.
Late Mail: 1-17


1. Apii Nicholls 2. Hilda Mariu 3. Atawhai Tupaea 4. Jules Newman 5. Madison Bartlett 13. Georgia Hale 7. Charntay Poko 8. Annetta Nuuausala 9. Krystal Rota 16. Billy-Jean Ale 24. Onjeurlina Leiataua 12. Crystal Tamarua 11. Kathleen Wharton 14. Kanyon Paul 15. Tasia Seumanufagai 17. Amber Kani 21. Tanika-Jazz Noble
24H Warning: Timaima Ravisa is out, with Roela Radiniyavuni replacing her in the halves. Honey Hireme drops off the reserves list.

Late Mail: All sorts of changes. Radiniyavuni now OUT. Hale moves to five-eighth, with Wharton moving to lock. Ale and Leiataua move into the starting pack, with Tanika-Jazz Noble joining the bench. Smalley is the other player to be omitted.

Match Officials
Referees: Ziggy Przeklasa-Adamski, Ethan Menchin;Sideline Officials: Jordan Morel, Tim Hannon;Video Referees: Steve Clark, Ben Lowe;
---

1. Botille Vette-Welsh 14. Rikeya Horne 3. Jessica Sergis 4. Tiana Penitani 5. Shakiah Tungai 6. Keeley Davis 7. Maddie Studdon 8. Ngatokotoru Arakua 9. Brittany Breayley 10. Maitua Feterika 11. Kezie Apps 12. Shaylee Bent 13. Holli Wheeler 15. Takilele Katoa 16. Maddison Weatherall 17. Najvada George 19. Aaliayah Fasavalu-faamausili
24H Warning: Sarah Togatuki omitted.

Late Mail: Rikeya Horne replaces Stephanie Mooka on the wing.


1. Corban McGregor 2. Karina Brown 3. Bobbi Law 4. Isabelle Kelly 18. Shanice Parker 6. Kirra Dibb 7. Melanie Howard 8. Ruan Sims 9. Nita Maynard 10. Aliti Namoce 11. Tallisha Harden 12. Hannah Southwell 13. Zahara Temara 14. Quincy Dodd 15. Jasmin Allende 16. Vanessa Foliaki 17. Caitlan Johnston
24H Warning: Simone Smith and Shontelle Stowers omitted.
Late Mail: Kiana Takairangi is out, replaced on the wing by Shanice Parker.

Match Officials
Referees: Kasey Badger, Daniel Schwass;Sideline Officials: Mitchell Currie, Karra-lee Nolan;Video Referees: Henry Perenara, Beau Scott;
---