Team Lists:
TEAMS: Betfred Women's Super League - 2019 Semi Finals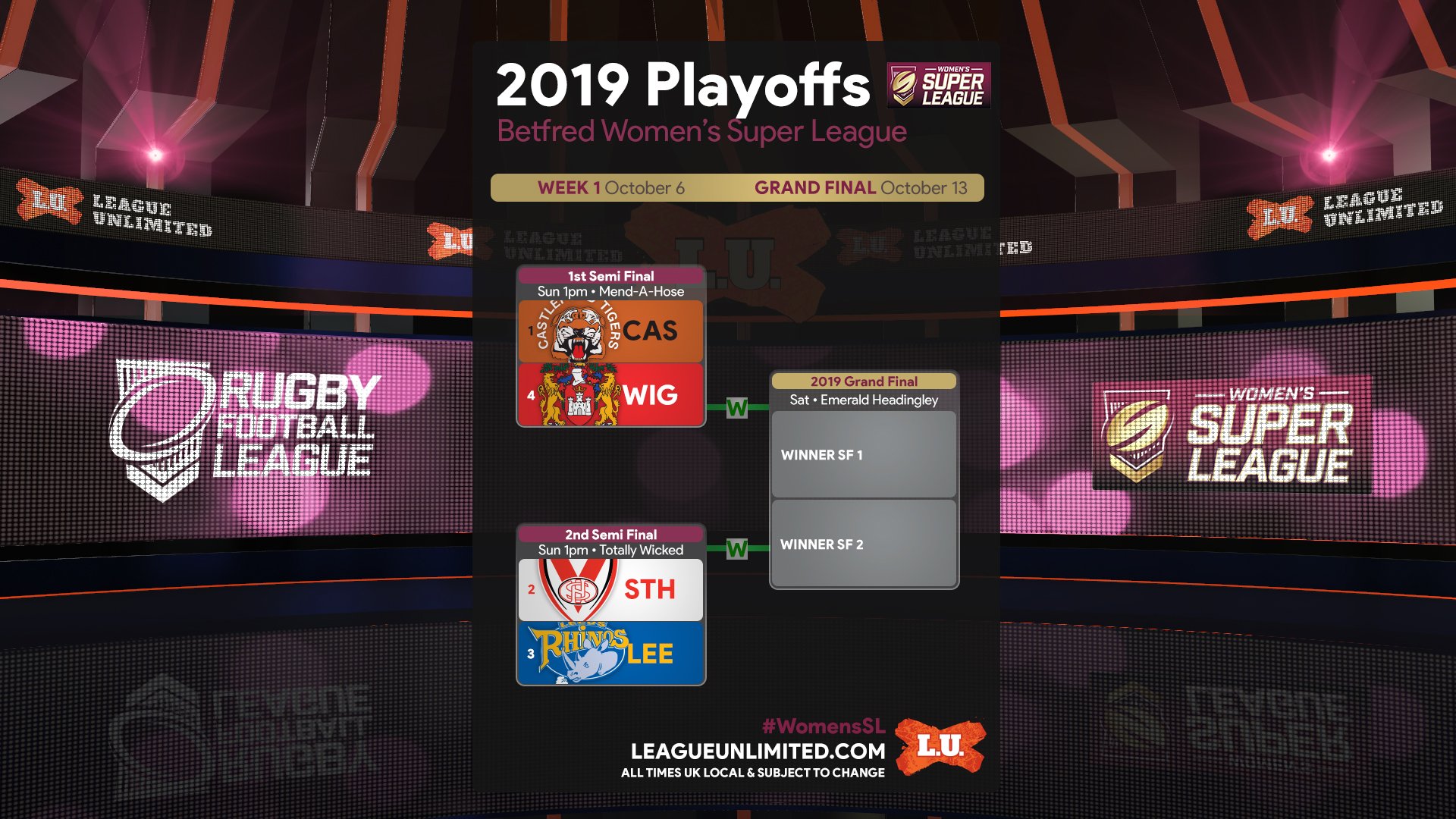 Get the team sheets as they become available for this weekend's Super League semi finals.
The winners of each match meet next week in the Grand Final at Leeds' Emerald Headingley Stadium.
St Helens v Leeds will be streamed live on OURLEAGUE.

All times are listed in AEDT (NSW/VIC/ACT) unless otherwise noted.
Twitter: Follow @LeagueUnlimited
Facebook: Like LeagueUnlimited - NRL & Rugby League News
---
1st Semi Final (1 v 4)
Castleford Tigers v Wigan Warriors
Sun October 6 2019, 11:00pm (1pm BST)
at Mend-A-Hose Jungle

1. Tara Stanley 16. Maisie Lumb 24. Lucy Eastwood 12. Lacey Owen 4. Kelsey Gentles 6. Georgia Roche 33. Jasmine Cudjoe 10. Grace Field 9. Sinead Peach 8. Emma Lumley 68. Shona Hoyle 28. Hollie Dodd 13. Rhiannon Marshall 14. Sammy Watts 31. Frankie Townend 11. Tamzin Renouf 44. Emma Slowe 17. Kirsty Higo 22. Sam Jordan

1. Rebecca Greenfield 23. Megan Grace-Holding 12. Vanessa Temple 30. Hayley Martinus 4. Georgia Wilson 3. Rachel Thompson 18. Charlotte Foley 17. Jade Gregory-Haselden 9. Carys Marsh 14. Holly Speakman 11. Amanda Sibbald 20. Emily Baggaley 13. Victoria Molyneux 7. Sarah Harrison 8. Lucy Baggaley 25. Megan Bragg 24. Eleanor Dainty
---
2nd Semi Final (2 v 3)
St Helens v Leeds Rhinos
Sun October 6 2019, 11:00pm (1pm BST)
at Totally Wicked Stadium

1. Rebecca Rotheram 2. Rebecca Avenell 3. Katie May Williams 4. Paige Travis 5. Leah Burke 6. Zoe Harris 7. Faye Gaskin 10. Sarah Lovejoy 9. Tara Jones 27. Claire Mullaney 13. Chantelle Crowl 12. Emily Rudge 21. Jodie Cunningham 15. Naomi Williams 14. Pip Birchall 16. Darcy Stott 18. Lizzie Gladman

1. Caitlin Beevers 4. Charlotte Booth 5. Madison Laverick 6. Hanna Butcher 7. Courtney Hill 8. Danika Priim 10. Dannielle Anderson 11. Aimee Staveley 13. Amy Johnson 14. Tasha Gaines 15. Sophie Nuttall 16. Chloe Kerrigan 17. Shannon Lacey 19. Elle Frain 22. Ellie Oldroyd 24. Francesca Goldthorp 27. Keara Bennett 29. Lori Halloran 30. Abby Eatock