Team Lists:
LeagueUnlimited NRLW Teams - 2020 Round 3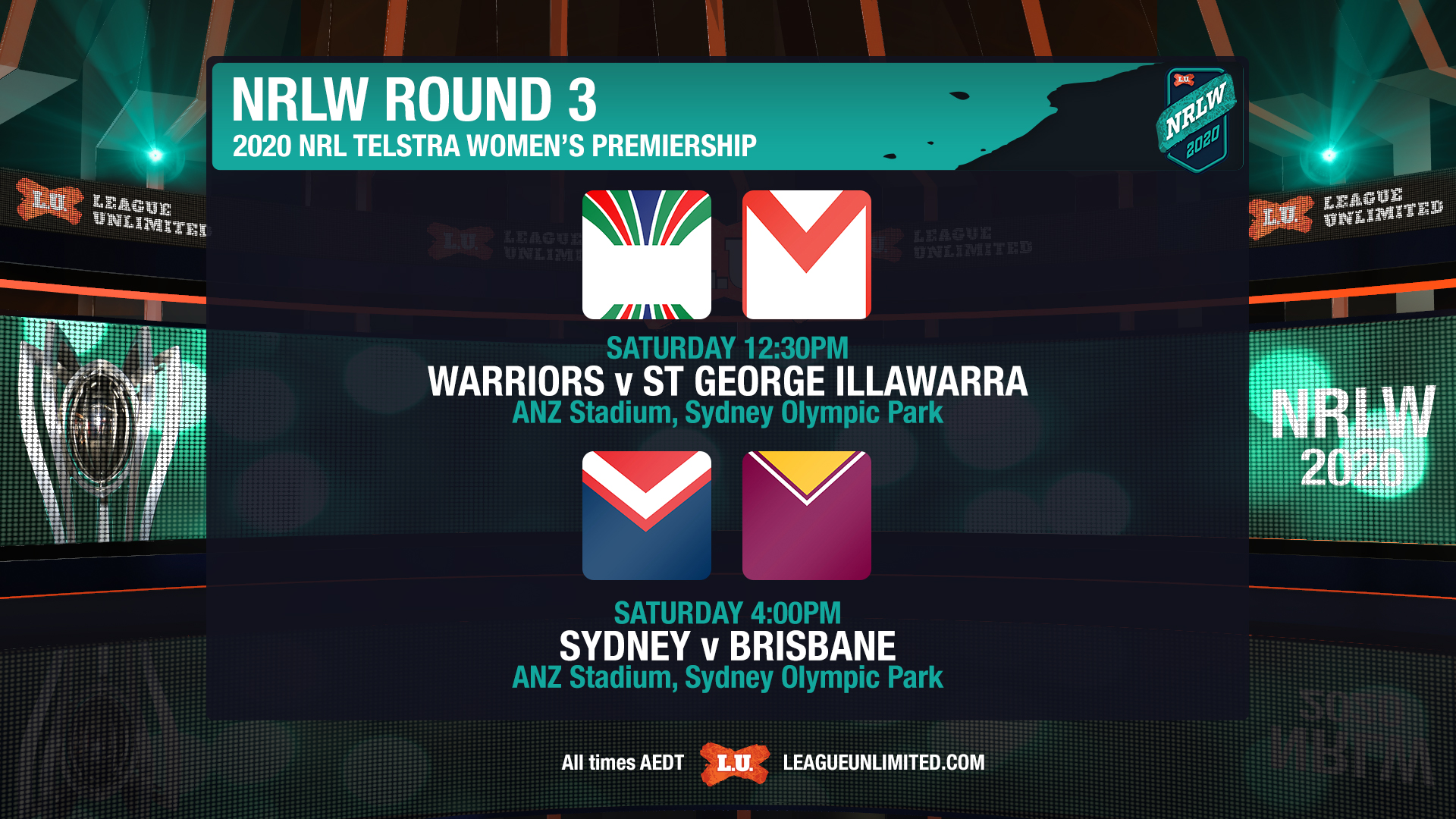 It's Teamlist Tuesday for Round 3 of the 2020 NRLW Season! At 4pm AEDT every Tuesday, the full teams for each NRLW round will be posted right here!
All times are listed in AEDT (NSW/VIC/ACT) unless otherwise noted.
Twitter: Follow @LeagueUnlimited
Facebook: Like LeagueUnlimited - NRL & Rugby League News
---
Referees: Belinda Sharpe;Sideline Officials: Ziggy Przeklasa-Adamski, Drew Oultram;Video Referees: Steve Clark;
1. Sam Bremner 14. Teagan Berry 2. Rikeya Horne 3. Jessica Sergis 5. Jaime Chapman 6. Keeley Davis 16. Jade Etherden 8. Ellie Johnston 9. Aaliyah Fasavalu-faamausili 10. Stephanie Hancock 11. Georgia Page 12. Talei Holmes 19. Maddison Weatherall 13. Elsie Albert 15. Christine Pauli 17. Mahalia Murphy
19-woman squad named - Kezie Apps (knee) is out, along with Shaylee Bent (suspended) and Isabelle Kelly (ankle). Georgia Page and Talei Holmes are their replacements. Penitani starts centre and Rikeya Horne joins the bench. Etherden and Berry join the bench. The side only has 19 players named due to injury concerns.

24 hour warning - with only 19 named, the Dragons did not need to cut any players.

Late mail - horrendous news with both Maddie Studdon and Tiana Penitani out. Etherden comes in at half, Berry into the backline and Weatherall starts lock with Albert benched. Shakiah Tungai drops out.

1. Karina Brown 2. Madison Bartlett 3. Shontelle Stowers 4. Evania Pelite 5. Ellia Green 6. Kirra Dibb 7. Naomi Kara 8. Crystal Tamarua 9. Hilda Peters 10. Samantha Economos 14. Teaghan Hartigan 12. Tazmin Gray 13. Georgia Hale 11. Shaniah Power 15. Taimane Levu 17. Michaela Peck 20. Laken Paitai
21-woman squad named - Smith drops to the bench with Kara named halfback, while Economos starts prop, Peters hooker and Power second row. Sauvao, Paul and Clark drop out. Hartigan and Levu come onto the bench.
24 hour warning - Kanyon Paul and Brianna Clark drop out.

Late mail - Shaniah Power benched with Teaghan Hartigan starting back row. Simone Smith drops off the bench with Laken Paitai coming in. Steph Ball drops off the reserves.

---
Referees: Liam Kennedy;Sideline Officials: Ziggy Przeklasa-Adamski, Drew Oultram;Video Referees: Steve Clark;
18. Zahara Temara 2. Shanice Parker 3. Brydie Parker 11. Yasmin Meakes 5. Taleena Simon 6. Corban McGregor 7. Melanie Howard 21. Grace Hamilton 9. Nita Maynard 10. Filomina Hanisi 16. Vanessa Foliaki 12. Sarah Togatuki 13. Kennedy Cherrington 8. Amelia Mafi 14. Quincy Dodd 15. Kaitlyn Phillips 19. Simaima Taufa
21-woman squad named - Zahara Temara, Simaima Taufa and Hannah Southwell are all rested and listed in reserves instead. Melanie Howard is halfback with Amelia Mafi prop. Grace Hamilton drops to the reserves as well with Kaitlyn Phillips onto the bench.
24 hour warning - Charlotte Caslick (back) is out for the remaining matches. Temara comes back in at fullback. Hannah Southwell is the omitted reserve.

Late mail - Law is out, with Meakes moving to centre and Foliaki coming in at second row. Hamilton comes in and starts prop with Mafi benched, while Jocelyn Kelleher drops off the bench in favour of Simaima Taufa.

1. Tamika Upton 2. Shenae Ciesiolka 3. Julia Robinson 18. Tyler Birch 5. Meg Ward 6. Raecene McGregor 13. Tarryn Aiken 8. Millie Boyle 9. Lauren Brown 16. Shannon Mato 11. Tallisha Harden 12. Jessika Elliston 7. Ali Brigginshaw 10. Chelsea Lenarduzzi 14. Annette Brander 15. Romy Teitzel 17. Chante Temara
20-woman squad named - Ciesiolka starts on the wing, Brown replaces Lavinia Gould at hooker, Brigginshaw and Aiken swap back to half and lock respectively. Elliston starts second row with Amber Hall out through suspension. Chante Temara and Romy Teitzel join the bench.
24 hour warning - Nakita Sao cut.

Late mail - Jayme Fressard drops out of the linup with Birch to play centre. Aiken and Brigginshaw switch as per last week, while Mato starts prop and Lenarduzzi is benched. Zara Canfield is the omitted reserve.

---