Team Lists:
TEAMS: NSWRL Ron Massey Cup - 2019 Grand Final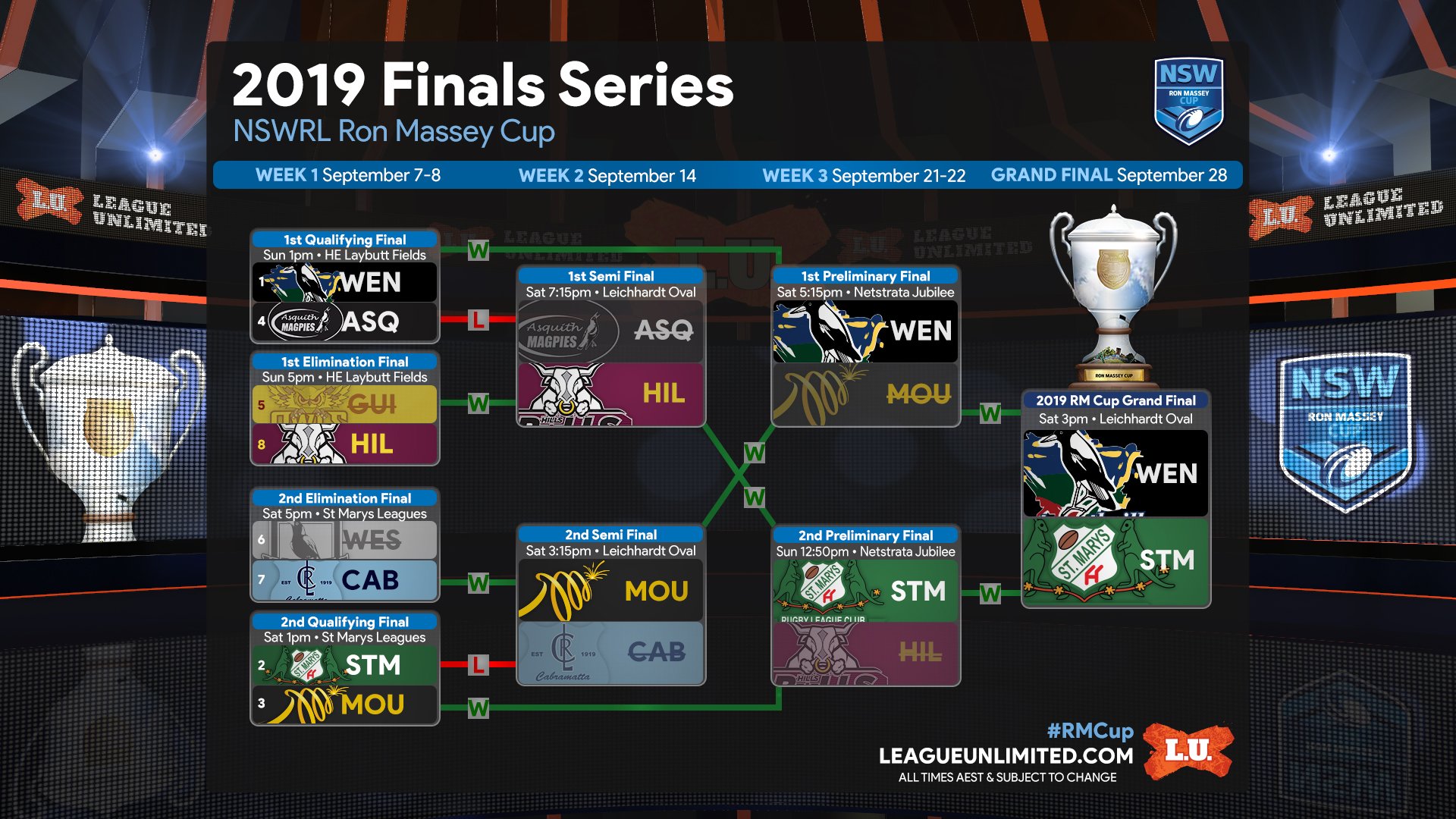 It's Teamlist Tuesday for the 2019 NSWRL Ron Massey Cup Grand Final! Get the full teams for the #RMCup decider right here.
The match will be broadcast live on Steele Sports & Hawkesbury Radio.

All times are listed in AEST (NSW/QLD/VIC/ACT) unless otherwise noted.
Twitter: Follow @LeagueUnlimited
Facebook: Like LeagueUnlimited - NRL & Rugby League News
---

1. Josh Bermingham 2. Eparama Navale 3. Liam Mulvihill 4. Eli Roberts 5. Josh Minhinnick 6. Henry Raiwalui 7. Beau Henry 8. Adam Spicer 9. Brad Keighran 10. D'Rhys Miller 11. Danny Howard 12. Kieran Hayman 13. Blake Cook 14. Dylan Izzard 15. Rydge Smith 18. Brad Johnson 21. Haveatarna Luani 24. Nick Kassis

1. Jake Toby 2. Chris Aunese-Scanlan 3. Geoff Daniela 4. Maliko Filino 5. Marli Sini 6. Isaac Thompson 7. Kurt Falls 8. Leonati Feiloakitua 9. Meni Luke 10. Vasili Tsikrikas 11. Pat Hollis 12. John Faiumu 13. George Tsikrikas 14. Jake Maizen 15. Thomas Romer 17. Dylan Fuad 18. Tom Skinner 19. Anton Iaria 20. Veta Henry Seumanu 21. Blake McDermott
Match Officials
Referees: Keiren Irons;Sideline Officials: Adam Reid, James Vella;
---